Cauliflower "Béchamel" Sauce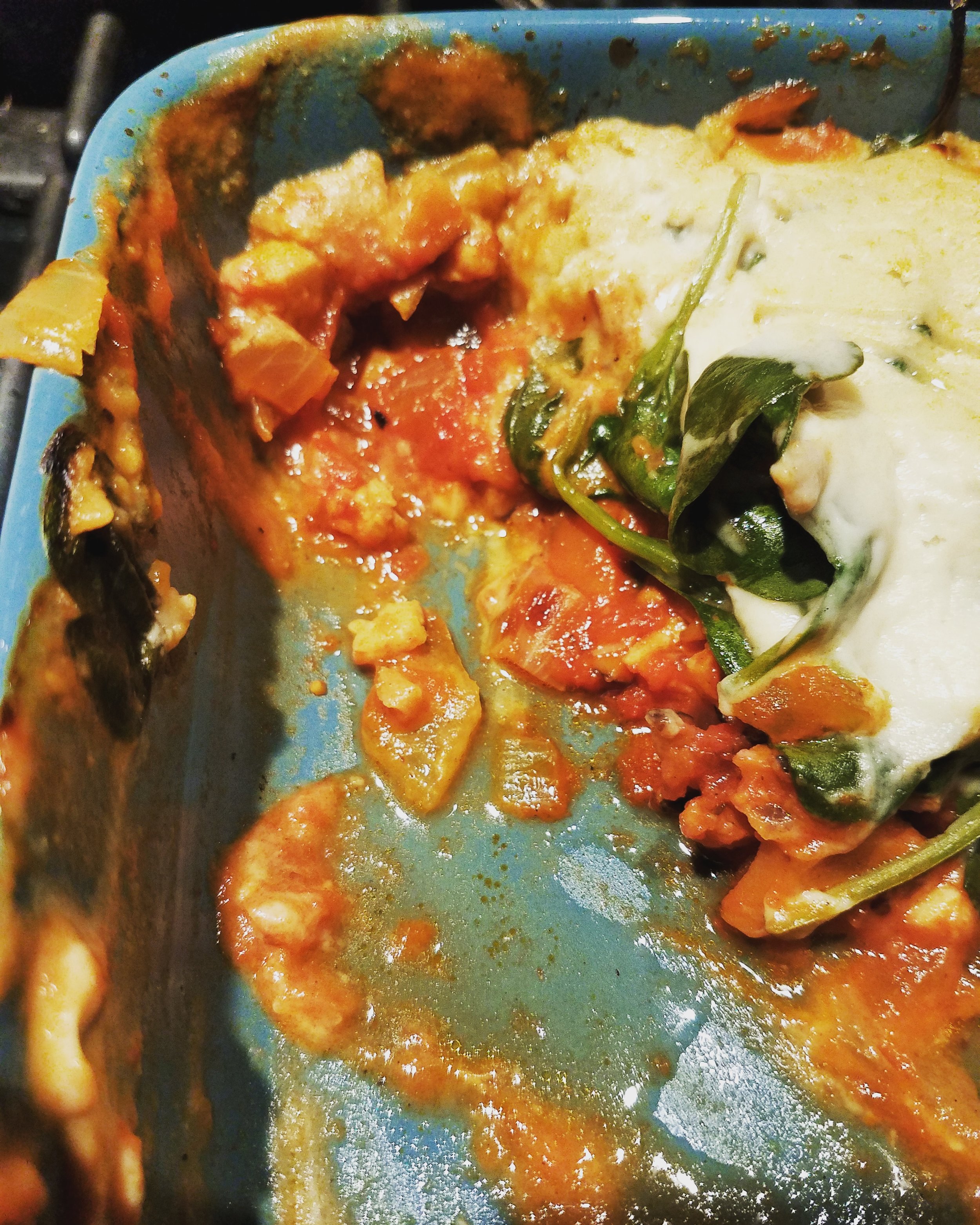 Cauliflower "Béchamel" sauce
Béchamel is one of the classic French "mother sauces", made from a combination of a flour based roux and either milk or stock whisked together to create a silky consistency. Combined with cheese, it is an essential element to macaroni cheese or lasagna and I have missed it since turning to a plant based diet! Not only is this version dairy free, it does not call for any imitation ingredients (no margarine here) and contains no flour which also makes it gluten free. In other words, it is a deeply comforting food that also nourishes your body rather than challenges it. This is very much based upon personal taste so play with the quantities in the ingredients list here. Please try it and comment below to let me know how it goes for you!
Makes approximately 1.5 – 2 cups sauce
1 bulb garlic
1 teaspoon olive oil
Maldon salt (this is my fave, but feel free to replace with another sea salt)
1 medium cauliflower
2 bay leaves
4 peppercorns
2 large teaspoon Dijon mustard
2 tablespoon white miso
3 teaspoon tamari
2 teaspoon apple cider vinegar
2 teaspoon lemon juice
Pre-heat your oven to 350°F
Slice the top off the garlic bulb and place on a piece of parchment paper*, drizzle with olive oil and sprinkle with a pinch of Maldon salt. Wrap in aluminum foil and place in a dish in the oven for around 45 minutes, or until soft, golden and sweetly fragrant. You may need to unwrap the foil and return it to the oven to reach this point. Once it is done, remove from the oven and set aside to cool.
Meanwhile wash the cauliflower, trim away any unwanted leaves (fresh green leaves are fine to stay) and cut into florets. Add the bay leaves and peppercorns to a pan with water. Add the cauliflower florets and place a lid on the pan, steaming for around 7 minutes until very soft (this is a time when you want your veggies not to have any crisp left in them!) Once soft, remove from the pan and place in a bowl to cool a little, retaining the water.
Take the garlic bulb and squeeze the soft flesh from each clove into your blender, together with the cooled cauliflower and all of the remaining ingredients BESIDES the retained cooking water. Blend slowly, adding a little of the cauliflower cooking liquid as needed, increasing the speed until you reach the desired consistency. Take care not to add too much liquid, your sauce should be creamy and rich. A Vitamix is best here as you will achieve the smoothest results. Taste and add more flavor as you wish.
* when cooking with aluminum foil, it is best to first wrap the ingredient in parchment paper, keeping it from direct contact with your food, protecting you from exposure, no matter how small, to metals in your diet. Whilst the Center for Disease Control's Agency for Toxic Substances & Disease Registry suggests that it's "generally safe", the CDC also reports that higher than average levels of aluminum could be linked to nervous system, brain, bone diseases, and could also put you at risk of anemia. Those who cook often with aluminum foil (and aluminum pots and pans) are at a higher risk. You can read more about this subject from the International Journal of Electrochemical Science and make your own decision.